118 Views
The Kenyan parliament never runs out of controversy as far as love scandals are concerned. From a vocal coastal female MP who is currently dating and cohabiting with her bodyguard to a renown lawmaker who fell ill while with a side chick at a Nairobi apartment, they keep making headlines.
Laikipia women representative Cate Waiguru has been exposed for allegedly snatching a married man causing him to abandon his wife and three children. A lady who wrote to renowned blogger Cyprian Nyakundi in confidence noted that the wife to the man was very stressed after losing her husband to the popular MP. The man has been identified as Peter Waweru who is said to be the chairman of commerce in Kirinyaga county.
"Hey Cyprian, I hope you're well. So my friend is stressed. Her hubby is now cohabiting with Waruguru who was once chased away for trying to check into a hotel with a married man. She's hoping you can highlight the story so the public can know what Waruguru is all about. The guy in question is Peter Waweru. He's the chairman Chamber of Commerce Kirinyaga county but is now officially Waruguru's chauffeur," read part of the exposé shared by Cyprian Nyakundi.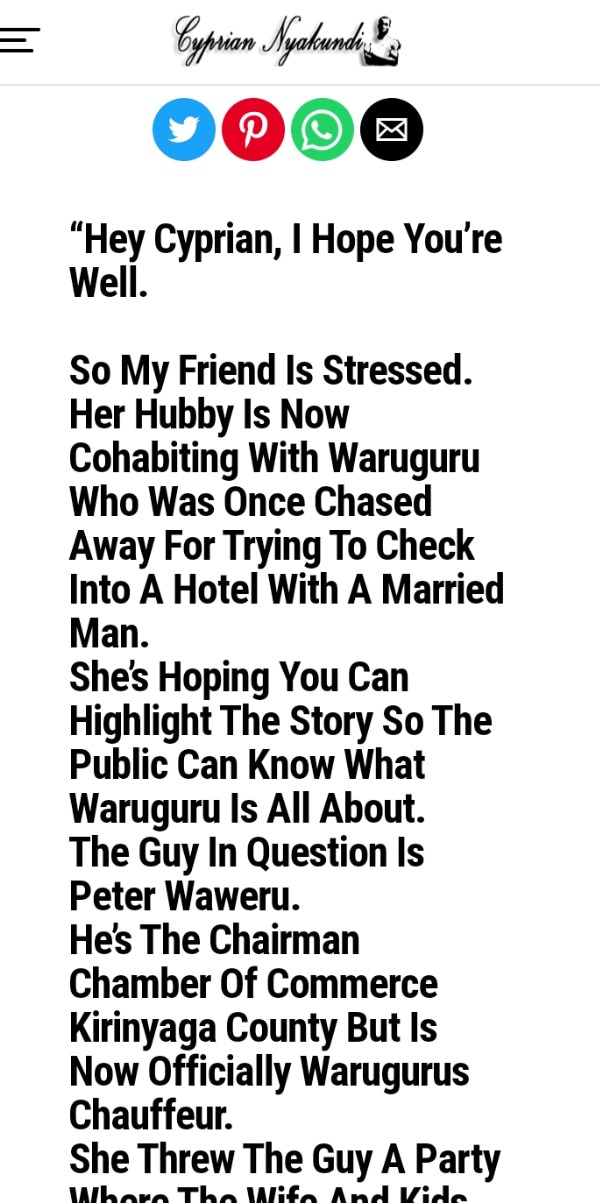 The confidential informant further reports that the two were recently spotted at the Marina where Waweru is said to have taken Waruguru and her children for a treat. Waweru who recently graduated is accused of dedicating his degree to his parents instead of his children. Waruguru is also said to have thrown a graduation party for Waweru but his wife and children were not invited.
"She threw the guy a party where the wife and kids weren't invited. They were recently spotted at the marina where Peter took Waruguru and the kids on holiday. Here is the graduation program where he dedicated the degree to his parents yet he's a father of 3 since she was the planner of the event," added the Source to Nyakundi.