376 Views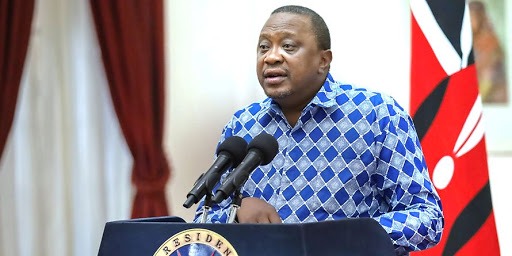 President Uhuru Kenyatta is in his second and last term as president of the republic of Kenya. As per the current constitution, he cannot contest again for the presidency in 2022. However, with a constitutional amendment, President Uhuru Kenyatta can become a prime minister in 2022. Sources indicate that is the angle being pursued by the Uhuru-Raila alliance and it's among the key reasons why the two are pushing for the BBI and the referendum. The cooperation will see Raila Odinga become the president and Uhuru Kenyatta become the prime minister in 2022 if they succeed.
However, Gatundu South Member of Parliament Moses Kuria has come out to deem a major blow to deputy president William Ruto and former Prime Minister Raila Odinga as both are lobbying for President Uhuru Kenyatta's endorsement in 2022. According to Moses Kuria, President Uhuru Kenyatta plans to retire peacefully in 2022 and exit from active politics without endorsing anybody leaving Raila and Ruto to face off on their own. He further claims that president Uhuru Kenyatta has no intentions of becoming prime minister which is major blow to Raila's camp since that is what they are counting on to have Uhuru support Raila.
"I have always maintained that Uhuru Kenyatta is a democrat. He will neither extend the term limit nor try to be Prime Minister. He will go home with grace and dignity in 2022. He will not support any candidate in 2022. #Jubileeasili #SotePamoja @WilliamsRuto @KIMANIICHUNGWAH," shared Moses Kuria on twitter.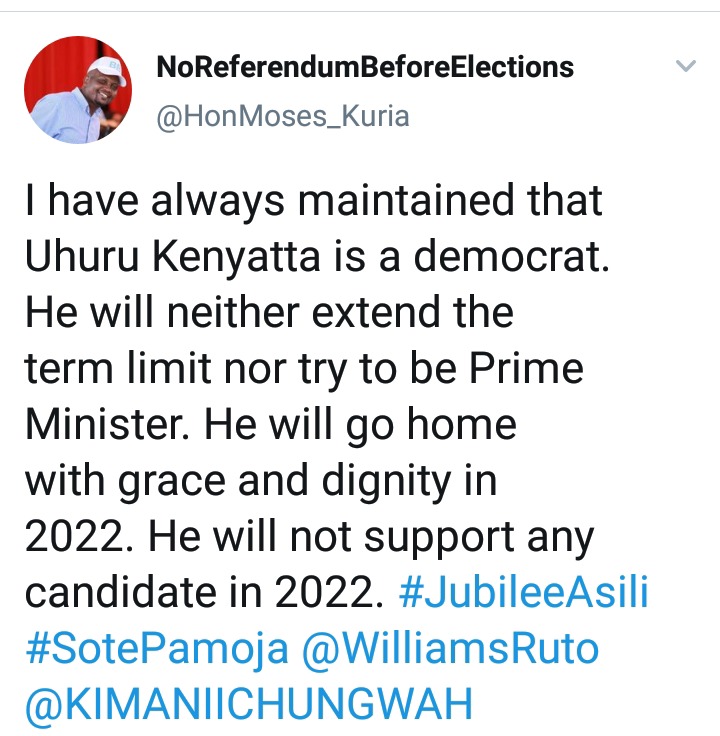 Outgoing presidents usually have a bigger voice in the political scene and the candidate they endorse normally receives an additional political mileage. A big fraction of voters usually follow the choice presented to them by an outgoing president with the knowledge that having been a president, he knows better who is best suited to succeed him and possibly carry on his agenda to completion.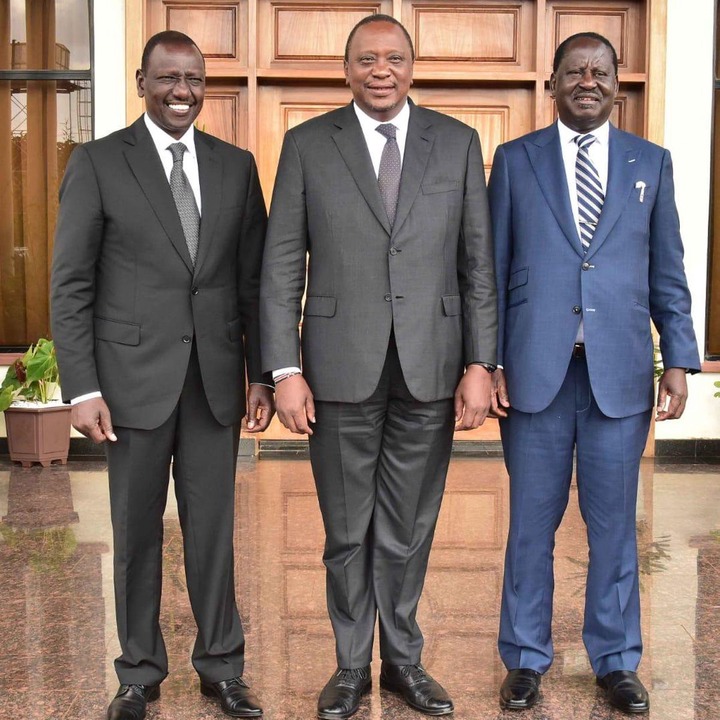 If President Uhuru Kenyatta exits in 2022 as alleged by Moses Kuria without endorsing anybody, Raila Odinga and William Ruto will both lack the competitive advantage which to some extend will be a good thing since they will all start on a neutral ground. William Ruto is still counting on the initial promise president Uhuru Kenyatta made of endorsing him to rule for 10 years after he retires in 2022 while Raila Odinga is counting on making Uhuru the prime minister in 2022 as Uhuru endorse him for president. President Uhuru Kenyatta during a recent interview with an international media stated that he has no intentions of staying in power past 2022 which means Moses Kuria might be right and Raila and Ruto might be in serious trouble.