1 Views
Deputy president William Samoei Ruto is a formidable politician who never loses his resolve even amidst a tempest. Despite spirited efforts by his opponents to bring him down, he has remained steadfast in his political journey. Armed with the bible, Ruto continues to preach good news and share a message of hope with his supporters.
After several months of silence on bible scriptures following a public ridicule, he has pounced back like he never left. Taking to his social media account, the deputy president declared that even if he is going through some suffering now, the God he serves will restore him, strengthen and then establish him.
"And after you have suffered a little while, the God of all grace, who has called you to his eternal glory in Christ, will himself restore, confirm, strengthen, and establish you." Shared deputy president William Ruto on twitter.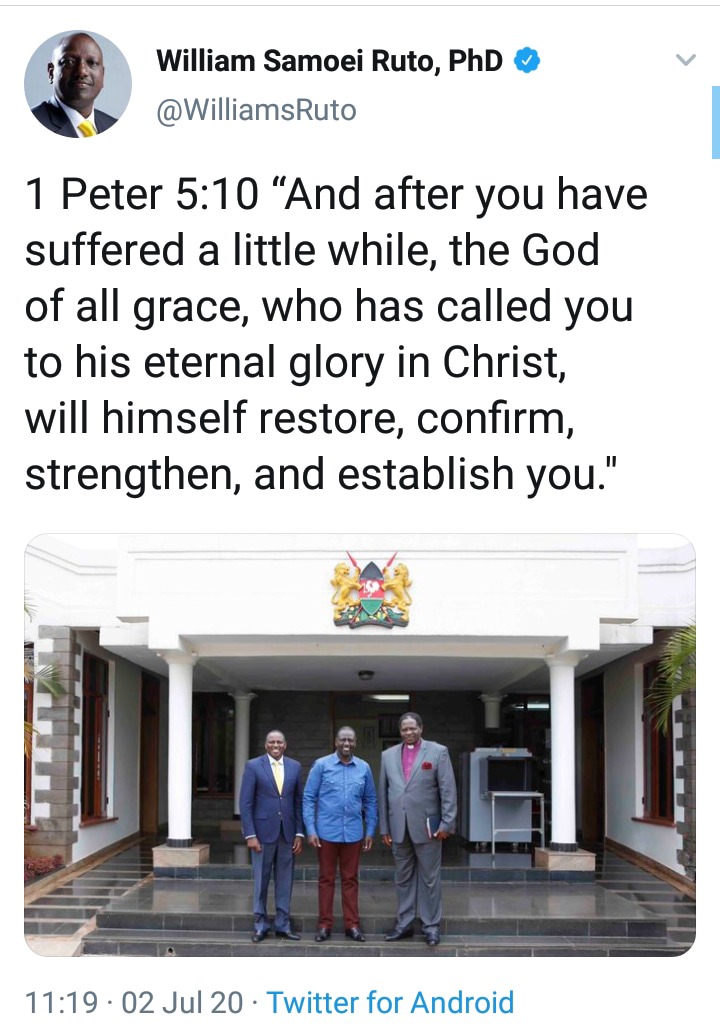 This comes at a time when he has been isolated by his government following a fallout with his boss president Uhuru Kenyatta. His great political ambitions have earned him many enemies with many political bigwigs teaming up to finish him politically. However, deputy president William Ruto is optimistic that the God of grace will one day restore him to his former glory.
His message has sunk well with his supporters who came out to agree with his sentiments while promising to vote for him in 2022.
MJ
Hello. I just wanted to remind you that 2022 you have my vote. Thank you!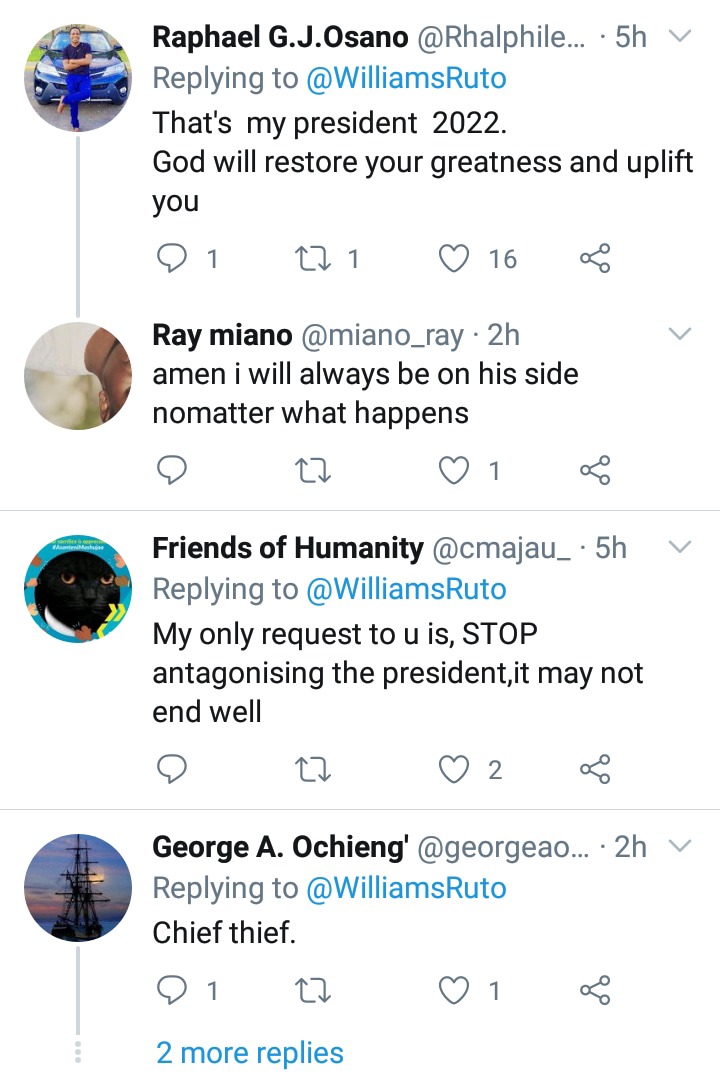 General Maksudi
Turkana west votes including mine is yours Mr. president "Hustler Nation with God we shall rule come 2022.
Raphael G.J.Osano
That's my president 2022. God will restore your greatness and uplift you.
Lucas ogwora
Hello Mr. president, you have my vote from Kisii, I promise and nothing will change my mind.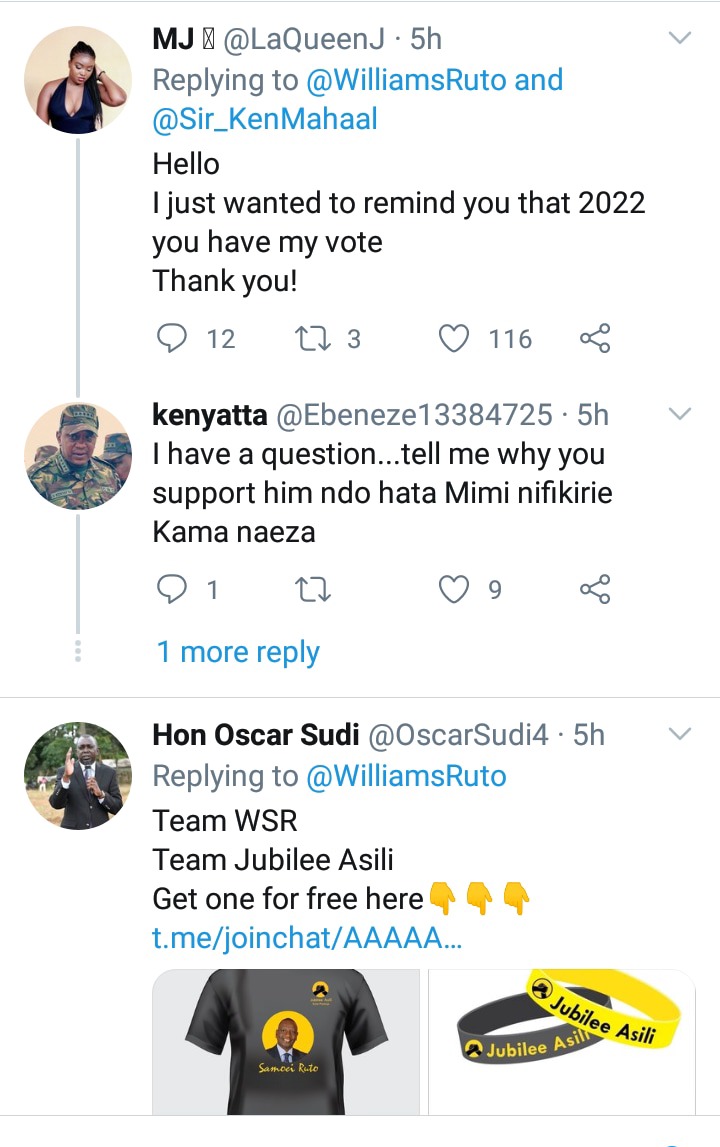 Ray miano
Amen I will always be on his side no matter what happens.
Kipchumba Murkomen
Amen, Mr. President on waiting.
Jackson kaaman
May you be established in Jesus name!
Shiro Shi
Our 5th president ubarikiwe sana.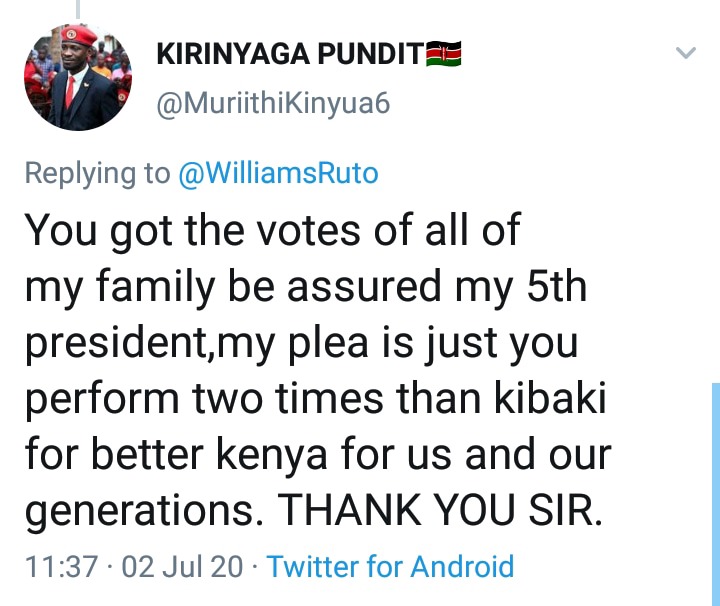 Josephat Meraba.
My president 2022. Kura yangu kwako.
Vanessa Chepngeno
That's my 5th president @WilliamsRuto tunakupenda hadi tunaumwa can't wait to vote u in come 2022.
Wilvex Rono
God fearing my 2022 president of Kenya.