112 Views
Residents of Kameji sub-location in Migori county were thrown into mourning after one woman committed suicide due to an alleged plot by her husband to marry a second wife. This is according to the Standard. The daily reports that 38-year-old Pamela Atieno killed herself after finding out that her husband, Michael Ondito, had a secret lover that he was planning to marry as a second wife.
Area Chief John Agoro has since confirmed the incident and is the one who reported the matter to the police.
"The deceased reportedly differed with her husband after she learned that he had another lover and was planning to marry her as a second wife," said Chief John Agoro to the Standard.
However, before taking her life, the late Pamela Atieno wrote a suicide note to her husband telling him that it is his infidelity that has caused her to terminate her life.
"I have decided to die because of your secret plan to marry another wife," the suicide note read in part.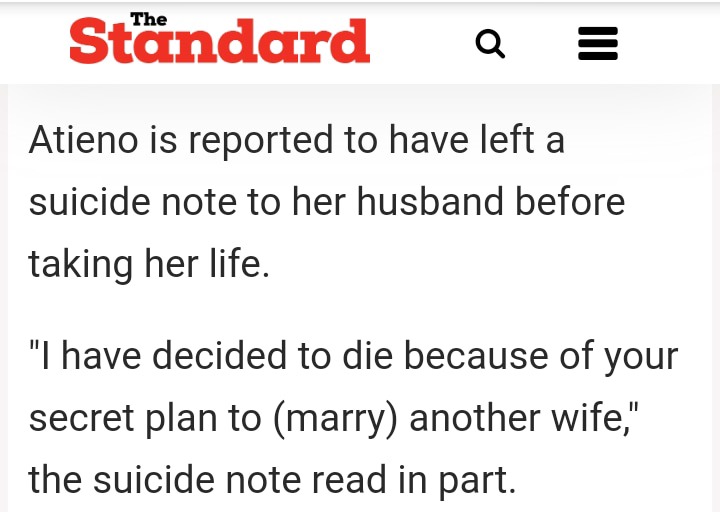 Speaking to the Standard, Michael Ondito, the woman's husband, stated that he was shocked to find out that his wife had committed suicide and yet the two never quarreled nor fought. He reports that he had gone to the farm to tend to his crops only to be called and informed that his wife was no more.
"I was called when I was at the farm in the morning but upon reaching home I found the body of my wife hanging on a rope on our doorstep, I was surprised because we had not quarreled or fought," said Ondito.
Area residents have been urged to seek alternative pathways of addressing the challenges they face in marriages other than taking their own lives. The chief condemned that act and called upon people to speak up when they face suicidal thoughts.
Rongo police boss Peter Okiring also confirmed the incident. He told the Standard that the police were informed of the incident by the area chief and went to collect the body which they took to the mortuary. They have launched the investigations to ascertain the cause of her death.